Online Divorce
in Pennsylvania
Simple process to get divorce papers online
Affordable pricing plans with no hidden fees
Unlimited changes to forms and free revisions
Divorce papers ready to download in two business days
Step-by-step filing instructions
Award-winning tech support for all customers
Divorce in Pennsylvania is quick and easy
Divorce Online in Pennsylvania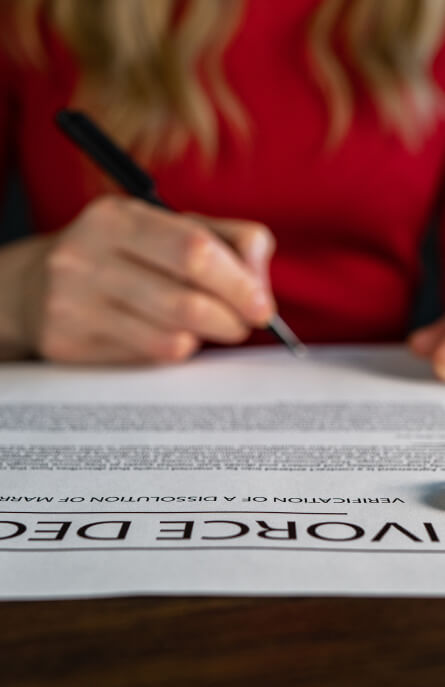 PennsylvaniaOnlineDivorce.com offers a 100% legit, quick, and affordable solution to prepare for the filing process.
The main advantages of online divorce are:
There are no unnecessary meetings required. All you need to complete your divorce papers is your PC or smartphone.
You can manage your time efficiently, without being dependent on a lawyer's schedule, and work with your documents whenever and wherever is comfortable for you.
You can move at your own pace, going back and making changes in your divorce forms if necessary.
All the required paperwork can be completed and available to download online in only two business days.
The provided state-specific written instructions help avoid mistakes when filing the initial divorce papers with the local court clerk.
Low cost, even compared to attorneys' flat-fee pricing options for uncontested cases.
All you need to do to enjoy all these benefits right now is verify you are qualified for online divorce and complete the questionnaire providing your case details.
How to qualify for an online divorce?
All couples pursuing an uncontested divorce can fill out their court forms without an attorney using our online divorce service, regardless of the length of the marriage, the presence or absence of minor children, or marital property.
To qualify for an online divorce, the spouses must file for dissolution with mutual consent and reach an agreement on the essential terms of their divorce, like child custody and child support, alimony, property division, etc.
Compare Your Options for Filing for Divorce in Pennsylvania
Divorce With a Lawyer
Traditional divorce proceedings where spouses hire separate lawyers pursuing a contested divorce.
Dependent on a lawyer's schedule
High costs. Pennsylvania lawyers charge about $250 per hour
Litigation is the most prolonged way to dissolve the marriage
Win-at-all-costs lawyers tend to complicate divorce cases causing new conflicts
Bitter custody battles are harmful to the spouses' children
Pennsylvania Divorce Online
Fast, cheap, and easy-to-follow online process focused on uncontested divorces.
Everything is completed online from the comfort of your home
One cost to access all the documents, no hidden fees
Quick paperwork preparation, within two business days
Easy-to-use tool, available for all couples seeking an amicable divorce
High-quality customer support and comprehensive court filing instructions
DIY divorce
A "pure" do-it-yourself divorce without any assistance is the cheapest but the most challenging route.
Lack of knowledge of divorce rules and laws causes mistakes in forms
Paperwork can get complicated, so DIY divorces often drag out
The high risk of an unfair outcome
Refusing qualified help can lead to a contested divorce
May result in extra expenses
Here's how our process works.
Looks complicated?
Get your hassle-free divorce
Provide your case details
2
File for Divorce Online in Pennsylvania Without a Lawyer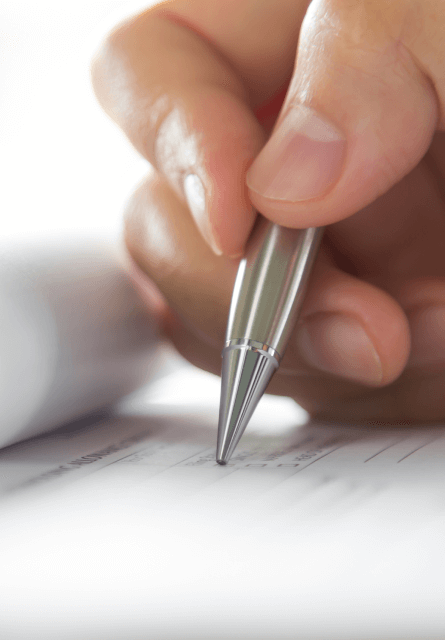 Dissolution of marriage requires many legal forms, depending on the state, county, and each couple's unique circumstances. To complete all the paperwork correctly and know what forms to file at different stages of the process, the spouses can take advantage of our online divorce services and save their time and money.
However, further steps are the parties' responsibility if they do not hire a lawyer.
Filing Process
Any divorce starts with a petition, called the "Complaint" in Pennsylvania. This initial form filled out by the party initiating a legal action (the plaintiff) is designed to inform the court of the person's desire to divorce.
Generally, a petition includes critical information regarding the case, like the date of the marriage and the date the spouses separated, the parties' residences, identification of their children, grounds for divorce, etc.
To apply for an uncontested divorce in the State of Pennsylvania, the plaintiff must complete the Divorce Complaint, with the "Notice to Defend and Claim Rights" and the "Verification" attached.
Then, they have to take the original and two copies of this form to the Clerk's Office in the county where either of the spouses currently resides.
At the moment of filing, the plaintiff pays court filing fees, and the Clerk stamps and dates the papers.
That is how the divorce process officially starts.
The original document stays in the Office while the copies are returned to the applicant, who needs to deliver one of them to the other spouse (called the defendant) within thirty days of the filing date.
Do-It-Yourself Divorce in Pennsylvania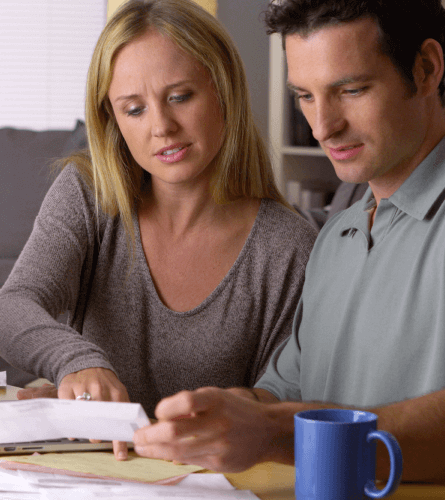 Although DIY divorce is not generally recommended for complex contested cases, couples who do not have disputes over children or property can arrange a divorce without an attorney.
To avoid the risks and pitfalls of a do-it-yourself approach and save money, they may resort to low-cost alternative options, like divorce mediation, counseling, or online divorce.
Using PennsylvaniaOnlineDivorce.com can help you complete all the required divorce forms quickly and correctly so that you can focus your full attention on the divorce process itself.
Do-it-yourself divorce requires the same steps as a legally assisted procedure:
1. Fill out the necessary divorce forms
Pennsylvania initial divorce forms include:
Complaint for Divorce
Notice to Defend
Verification
Affidavit of Consent, Final Praecipe to Transmit Record, ‌and Divorce Decree must be filed later. Other documents that may be required vary by the circumstances of a particular case.
2. File the papers with the court
The plaintiff must file a Complaint for Divorce with the Clerk of Family Court in the county where either spouse resides and pay court fees to start the legal action.
3. Serve the divorce papers on the defendant
Within 30 days after filing the case, the petitioner must serve the respondent with copies of the Notice to Defend, Complaint, and Verification in any of the following ways:
By asking a respondent to sign the Acceptance of Service form;
By personal service (by the Sheriff, private process service, or any adult person not involved in the case);
By certified mail, return receipt requested.
4. Wait 90 days from the date the Complaint was served
Pennsylvania laws require both spouses to wait ninety days from the date the defendant was served before filing their consent forms and the rest of the documents.
5. Once Divorce Decree and any other forms required in a particular case and county are filed with the court, a no-fault divorce can be finalized without court hearings, presuming there are no mistakes in the paperwork.
All Required Pennsylvania State Forms.
Pennsylvania-Specific Court Filing Instructions.
Unlimited Revisions for as long as your account is active.
Getting a Divorce With Children in Pennsylvania
There are two types of child custody, legal and physical, each of which can be awarded jointly to the parents or solely to one of them:
Legal custody refers to the decision-making power of each parent
Physical custody determines with whom the child lives and who is responsible for taking care of the child daily.
The divorcing parents of minors can agree on the terms of physical custody, visitation, and decision-making on their own, out of court. Otherwise, the court shall enter a custody order at its discretion, based on the child's best interest.
To determine the custody arrangement that best serves a child's needs in a particular case, a judge considers the following factors:
the physical and mental health of both parents and child;
each parent's role in the day-to-day care of the child;
each parent's role in the day-to-day care of the child;
child's preferences, given that a child is mature enough to express them before the court;
each parent's willingness and ability to encourage the contact of a child with the other parent;
any history of domestic violence and abuse;
and other factors that the court may deem to be significant.
In addition, certain Pennsylvania counties may require the divorcing spouses who have minor children to take a Parenting Class and provide the court with a Certificate of Completion.
Residency Requirements in PA
To be eligible to divorce in Pennsylvania, a couple must meet the state residency requirements. According to PA Code, at least one of the spouses must be "a bona fide resident in this Commonwealth" for at least six months before filing the Complaint for Divorce.
If you do not meet these residency requirements, the Court of Common Pleas cannot have jurisdiction over your case and make any judgment.
How Long Does It Take to Get a Divorce in Pennsylvania
Generally, there are a lot of factors that can affect how long the divorce process takes, including the type of divorce, the time you need to negotiate with your spouse and prepare the necessary court forms, the type of services used, and more.
However, Pennsylvania requires a mandatory 90-day waiting period for all no-fault divorces. This period starts when the plaintiff serves the defendant with copies of paperwork, and only after 90 days have passed can the parties submit their consent forms required to finalize a divorce. The court will need additional time to review all the filed documents and enter a divorce decree.
Fault-based divorces typically take much longer, even though they do not imply a mandatory waiting period. The thing is, a petitioner has to prove fault-based grounds for divorce at a hearing or trial, which makes the length of the process unpredictable.
Thus, the average contested divorce takes between 5 and 12 months in Pennsylvania, while most uncontested divorces can be finalized in about 4-6 months.
Customer Testimonials
this was very easy and it made my very comfortable because it went through every step with me and made sure i understand what i was doing
So far, my entire experience has been good. I received my forms very quickly and without any errors. Customer service is always available to help you with any issues you are having.
It was easy, I didn't have any problem I was thinking to do with a lawyer I would waist time and money this web site is very good and cheapest
Great resource and helpful. Wasn't difficult to navigate and a quick process from filing out the information to getting the documents.
This was the most easy process ever. It was simple questions either you or your partner can fill in.
This is the most inexpensive and less hassle and easy process ever to file ur divorce. I love this website.Thank you guys, u are my heros .
This was the most efficient and direct divorce process. I recommend this company to anyone doing a DIY divorce. Awesome experience!
I wasn't unsure how this would be, but at the end it was worth it. I love this and if anyone that has to go through a divorce, I recommend this website.
First time being married and getting a divorce. I am nervous about getting the process correctly however this site walk through the entire process and guide me if I submit something wrong. I really do appreciate the ease in getting things done. Thank you
Frequently Asked Questions
How to file for an uncontested divorce in Pennsylvania?
If the spouses are willing to negotiate and cooperate, they can take advantage of uncontested divorce and avoid litigation. For that, both parties must agree on all of the main issues of the divorce, including child-related matters, finances, property, etc.
During the uncontested divorce process, the main steps spouses need to take are filing the divorce application, serving the respondent with the divorce papers, and completing consents and other documents.
How much does a divorce cost in Pennsylvania?
The cost of any divorce depends highly on the situation, yet on average, uncontested divorces are less expensive than litigation.
Even if spouses cannot agree on some issue but still wish to pursue a simple divorce, they can use affordable mediation services. Besides, you can benefit from our online divorce website and get your divorce forms completed for just $139, which is a much lower price than attorneys' flat fees for uncontested cases.
How to get a free divorce in Pennsylvania?
Each divorce starts with paying a court filing fee which is about $350 in Pennsylvania and varies from county to county.
This fee is mandatory for all plaintiffs unless they cannot afford to pay it due to financial hardship. To request to proceed "In Forma Pauperis," the petitioner must file the Petition to Proceed In Forma Pauperis and Affidavit, providing the court with detailed information about their financial situation.
How to get divorce papers in Pennsylvania?
Generally, blank divorce forms can be gathered in the Clerk of Court office or at the Unified Judicial System of Pennsylvania website.
However, if you are looking for the most comfortable option and need some assistance with paperwork, you can take advantage of PennsylvaniaOnlineDivorce.com. We provide all the relevant forms, customize them according to your particular circumstances and local requirements, and help fill them out without a hassle.
Where do I go to file for an uncontested divorce in Pennsylvania?
In Pennsylvania, all family law cases are handled by the Court of Common Pleas. So, a petition for divorce must be filed with the Clerk of Family Court in the county where either spouse resides.
What are the grounds for divorce in Pennsylvania?
Pennsylvania recognizes both fault and no-fault grounds for divorce. All the fault-based grounds must be proved before the court. They include but are not limited to willful desertion, adultery, cruel treatment, imprisonment, abusive conduct.
No-fault grounds for divorce are:
Mutual consent (both spouses must file an affidavit that they consent to a divorce)
Irretrievable breakdown of the marriage (living separate and apart for at least one year before divorce).
How is property divided in a Pennsylvania Divorce?
Pennsylvania is an equitable distribution state. The couple's marital property (acquired during the marriage) must be divided between the spouses fairly, though not necessarily equally.
To determine what would be fair in a particular divorce case, Pennsylvania courts consider multiple factors, including the length of the marriage, each spouse's age, health, income, amount of separate property, child custody arrangements, the standard of living during the marriage, and more.